Armed security guards protected the Fort Worth-area flock against "evil" in the pews.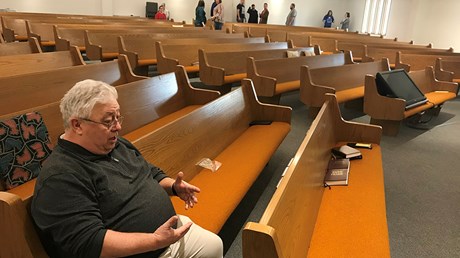 The West Freeway Church of Christ, a close-knit congregation of about 280, didn't get to finish its Sunday morning worship assembly.
So Monday night—roughly 30 hours after a gunman killed two beloved Christians during the Lord's Supper before an armed member fatally shot him—the suburban Fort Worth church came together.
A standing-room-only crowd squeezed into the church fellowship hall, next door to the closed auditorium where the shooting occurred, to grieve, pray and sing "Amazing Grace," "Precious Memories," and "It Is Well With My Soul."
"What happened yesterday is not something that we will ever be able to explain," minister Britt Farmer told church members, who shared hugs and tears before the special gathering as canine officers made sure the building was secure.
"There is evil in this world, and evil took two of my dear friends yesterday," Farmer added. "Not a bullet from a gun—evil. Not ideology—evil."
But the preacher, occasionally overcome with emotion that made it difficult for him to speak, declared that he would not let evil win.
"The battle belongs to God!" he said to amens and applause.
Farmer praised his family—all four of his adult children traveled home after the shooting—and his spiritual family for the support they have shown him.
"You are incredible, and I love you, and I mean that from the bottom of my heart," he said.
Mike Tinius, one of the church's five elders, wrapped an arm around Farmer and led the church in prayer.
"With all of our hearts, we ache. And with all of our hearts, we love," Tinius said to God. "What we feel as loss, we know …